It's been quite awhile since I've posted, and while I apologize for my absence (anyone have any spoons I can borrow?) and have much to report, including a terrifying experience with Stevens-Johnson Syndrome, there are more pressing matters at hand: the new revised diagnostic criteria (nosology) for the hypermobility type of Ehlers-Danlos Syndrome (EDS) is available in early view of the upcoming March 2017 issue of the American Journal of Medical Genetics Part C: Seminars in Medical Genetics.
First, I will start by stating that I am not a doctor, and I cannot provide medical advice, though I can probably give you more relevant (not to mention accurate) information than likely many of the doctors that you've seen, and maybe even point you in the right direction, but hey, I'm biased – but that's not news. What is news, however, is that in reviewing articles set to be published in the upcoming month, I first encountered a clinical description and review of EDS history (citations below), and while I had some comments, which I'll be addressing at a later date, overall I was largely impressed. Secondly, I read about cardiovascular features in EDS, notably autonomic dysfunction (Dysautonomia), and again, the article was comprehensive, including the acknowledgement that "high circulating levels of histamine" can contribute to cardiovascular dysfunction, meaning patients may also have comorbid Mast Cell Activation Syndrome (MCAS). I was, however, dismayed to find Orthostatic Hypertension received no attention, despite the included reference to hyperadrenergic (Hyper) POTS, often linked to MCAS, which frequently features rising blood pressure on standing. Both orthostatic hypertension and orthostatic hypotension are additional diagnoses, separate from POTS, and while orthostatic hypotension was mentioned, the same cannot be said for orthostatic hypertension. Lastly, I read the newly proposed diagnostic framework for "joint hypermobility and related conditions," and I have no words ... and yet so. many. words.
The article started off positively, as the new nosology will finally be abolishing the absurd and confusing division between EDS and Joint Hypermobility Syndrome (JHS) and "proposes a unified set of criteria for a single entity," known as Hypermobile Ehlers-Danlos Syndrome (hEDS). Well, that's wonderful, I thought, we're finally getting rid of all the nonsense and catastrophic misunderstanding over the name of the disorder ... and then, I kept reading...
The new criteria establishes a spectrum, which makes sense, given all EDSers are on a spectrum, we all know this, we experience different levels of severity, even amongst those of us with the same comorbidities, for example, some of us have more severe cardiovascular symptoms and others more severe GI and so on and so on ... except no, that kind of spectrum is apparently not exactly what the authors had in mind. Instead, the following are individual diagnoses within a group of "Hypermobility Spectrum Disorders" (HSDs):
Asymptomatic GJH (generalized joint hypermobility)
Asymptomatic PJH (peripheral joint hypermobility)
Asymptomatic LJH (localized joint hypermobility)
G-HSD (generalized hypermobility spectrum disorder)
P-HSD (peripheral hypermobility spectrum disorder)
L-HSD (localized hypermobility spectrum disorder)
H-HSD (historical hypermobility spectrum disorder)
hEDS (hypermobile Ehlers-Danlos Syndrome)
Not at all convoluted...
I'm sure given that most doctors couldn't wrap their heads around the fact that EDS, JHS, BJHS, and HMS are all the same disorder, these new disorders falling within the "Hypermobility Spectrum" will totally clear up all the confusion. Please, do take note of my sarcasm.
Of course, I immediately took to Twitter to express my disapproval.
However, while I certainly have many comments, concerns, and questions, I must also note that the developments outlined in Castori et al. (2017) are not all negative. The most positive takeaway I had from this article was the following statement:
"Ehlers– Danlos syndrome type III, Ehlers– Danlos syndrome hypermobility type, hypermobility syndrome, joint hypermobility syndrome, and benign joint hypermobility syndrome. All these names are considered outdated and their use should be discouraged."
While parts of the above statement have been true for years, especially that regarding benign joint hypermobility syndrome (BJHS), I've been saying this exact information to uniformed doctors (i.e. providing medical literature with citations), while they glared at me annoyed, for the past year and a half (I'm the patient, right, what do I know? Apparently, sometimes, situationally, I know a whole lot more than many doctors). Personally, I'm thankful this statement exists. Now, to only spread the word to the medical community...
I am though extremely concerned about the complexity of this new diagnostic "spectrum," as well as some of the aspects of the diagnostics themselves, including the continued use of the highly flawed Beighton scale. Please note this blog post is still in development, and I will update as I've had additional time to ruminate on these specific issues and when (if?) The Ehlers-Danlos Society provides a statement regarding this material, but in the meantime, (02/20/17 update at bottom of post.) The following are excerpts from the article (in bold and italicized), as well as my commentary.
"Hypermobility spectrum disorders group together all those phenotypes presenting joint hypermobility plus one or more of its secondary manifestations, but not satisfying the criteria for any Ehlers-Danlos syndrome variant, also comprising the hypermobile type."
While the consequences of joint hypermobility for symptomatic patients can be vast, the authors make specific differentiation between two concepts:
1. "Secondary consequences" of joint hypermobility itself, leading to musculoskeletal manifestations, termed "pathogenesis"
Micro- and macrotrauma
Degenerative joint and bone disease
Disturbed proprioception, muscle weakness
Musculoskeletal physical traits
2. "Primary pleiotropic" or systemic manifestations, specifically seen in EDS
Cardiovascular involvement
Primary dysmorphisms
Skin, mucosae and fascia involvement
Nervous system involvement
According to Castori et al. (2017), establishing whether a joint is hypermobile is "a relatively easy task," which they state is performed by "using professional tools, such as the orthopedic goniometer," adhering to "specific procedures," at which point they reference Juul-Kristensen et al., 2007, and by "comparing the measured range of motion (ROM) with normal parameters." I can't speak for everyone else, but I can say, in the over 10 doctors I've seen that have "assessed" my joint hypermobility (JH), I have yet to see any doctor pull out an orthopedic goniometer, measure my joint ranges, and specifically compare those ranges with "normal parameters." Frankly, I find the idea of doctors performing all three of these steps to be quite comical.
The authors state that if JH is observed in 1 to 4 joints, "fewer than five," then the definition is "localized joint hypermobility (LJH)," and if JH is found at "five or more" sites, then the appropriate term is "generalized joint hypermobility (GJH)." Despite the supposed aforementioned "easy" nature of making this determination, the authors then proceed to contradict themselves by stating that while JH is "theoretically" best found "at the four limbs and axial skeleton," this situation is not always the case, and therefore, "it is not necessarily straightforward as to whether an individual has GJH or not." Further, the range of motion "of most joints and the distribution of JH at the different sites is strongly influenced by age, sex, and ethnicity," and because of this fact, "the identification of a standard procedure applicable in all circumstances is challenging."
"Generalized (joint) HSD (G-HSD): GJH objectively assessed (e.g., by the Beighton score) plus one or more secondary musculoskeletal manifestations as previously identified. In these patients, the pattern and severity of the involvement of the musculoskeletal system should be carefully assessed in order to explore the possibility of a full-blown hEDS."
Is "full-blown hEDS" going to be considered a technical term? I have full-blown hEDS, but maybe last year it was only partially blown?
When considering the purpose of re-writing the nosology was to simplify and uncomplicate EDS diagnostics, as well as to update the literature due to the vast knowledge gained in the past twenty years, as EDS clearly can affect every bodily system, and is not "just joints and skin," as so many doctors insist, including even a geneticist I saw in 2016, I find this updated categorization to be confusing and diagnostically challenging, as even the authors admit that when considering asymptomatic JH, hEDS, and HSDs, "their clinical manifestations are variable, but largely overlapping ... therefore, from a clinical perspective, asymptomatic JH, HSDs, and hEDS can be brought back to a single continuous spectrum ranging from isolated JH to full-blown hEDS passing through the various HSDs."
Again with the "full-blown hEDS" terminology ... (I am currently shaking my head in exasperation). So what is "full-blown hEDS"? According to the article, hEDS is GJH accompanied by "comorbidities" [Note: These co-morbidities are not yet included in hEDS diagnostics (because more research is needed), see slides below for diagnostics and/or refer to the EDS webinar); Note 2: Is it just me, or does it seem it's basically (and problematically) being stated that Hypermobility Spectrum Disorders don't feature the following co-morbidities?]:
FGDs = Functional Gastrointestinal Disorders
POTS = Postural Orthostatic Tachycardia Syndrome
Pelvic & Bladder Dysfunction
Psychological Distress
"The presence of one or more JH-related co-morbidities aggravates the overall phenotype and usually indicates the need of a multidisciplinary therapeutic approach."
Why were these specific categories chosen? The reasoning, per Castori et al. (2017), being "the literature is full of case-control studies showing a significant association between GJH (usually assessed by the Beighton score) and specific extra-articular disorders. To date, the strongest associations are with anxiety disorders, orthostatic tachycardia, a variety of functional gastrointestinal disorders, and pelvic and bladder dysfunction." Personally, I dislike the vague use of the concept "psychological distress," though I suppose that category may be better than "anxiety disorders" specifically. However, while I don't personally have anxiety, clearly many doctors are under the impression that anxiety always goes hand-in-hand with Ehlers-Danlos, so am I going to now need an anxiety diagnosis because so many doctors will think I should have it because it's a common comorbidity? Also, perhaps the "literature is full of case-control studies" associating these comorbid disorders with joint hypermobility simply because the researchers were specifically looking for those comorbidities and perhaps had a selective attention bias? Is it not, in fact, possible that there are other additional and/or potentially even more relevant comorbidities that have simply not yet received adequate investigation? After all, the medical community did previously think that EDS was "just joints and skin."
"While JH is largely accepted as predisposing to recurrent musculoskeletal pain, neither chronic pain nor early osteoarthritis is a uniform obligate complication of JH."
If the above information is true, then would not chronic pain and/or early osteoarthritis, in the presence of JH, be indicative of hEDS? Yet, neither chronic pain nor early osteoarthritis is included as a part of the new nosology. Additionally, why are we still using the Beighton? The Beighton scale has been highly criticized as inaccurate and is clearly arbitrarily applied, depending upon which physician you see, so why is it being utilized as part of the new diagnostics, a.k.a. the "updated framework"? The authors state that generalized joint hypermobility will be "objectively assessed," yet they are clearly both simultaneously acknowledging and ignoring (yes, apparently such a thing is possible) the fact that the Beighton scale itself is hardly objective, is not applied with consistency, and does not account for hypermobility in other parts of the body (including the jaw, for example); not to mention, why isn't TMJ, or even chronic fatigue, listed in the comorbid disorders, given nearly all EDSers have these conditions as well? Further, the authors acknowledge that contradictorily, many hypermobile EDSers are not actually hypermobile and that it has well been recognized that hypermobility decreases with age; previously, doctors were supposed to be giving a point for a past ability to perform any points on the Beighton scale, though most doctors never awarded points for historical abilities, given very few doctors put much trust in the patient's ability to report their own history. But now, a history of a hypermobile joint (rather than current ability of hypermobility on display) will leave you classified as "Historical Hypermobility Spectrum Disorder." That's right, even if you were hypermobile in the past, and even though the authors acknowledge that many hypermobile EDS patients are not even hypermobile, and that hypermobility decreases with age, you will no longer receive an EDS diagnosis (or hEDS); instead, you'll receive "H-HSD." So, here's my question, as those of us who have already received diagnoses age, at which point we may no longer meet the Beighton scale criteria, and as new doctors continually demand us to reprove our existing diagnosis, will our hEDS diagnosis then be taken away from us, and will we be reassigned a diagnosis of lesser severity, H-HSD, simply because we may no longer meet the arbitrary Beighton scale criteria? I do use the term "lesser severity," because I have experienced doctors who think that some patients are "not severe enough" to have "full-blown hEDS," even when they have systemic comorbidities in every bodily system," so again, I am concerned this criteria is going to be applied completely subjectively and arbitrarily.
The authors also state that "those with HSD" may have "musculoskeletal conditions" that can be "resolved by treatment," who would then "in effect revert to having asymptomatic JH." Again, here, I express my concerns that this fluctuating spectrum of diagnostics is going to be abused by physicians. Who is actually judging when conditions are "resolved by treatment," and whether JH is "asymptomatic"? From personal experience, doctors put very little weight into the patient's experience, which quite frankly, this entire article goes to show that the patient's experience is vital to diagnostics, so why then do we not anticipate the problem that physicians will be imposing their personal and frequently non-objective perspectives into the diagnostic categorizations? If anything, I see this "hypermobility spectrum" as being an inordinate opportunity for inappropriate abuse of power by doctors, meaning more opportunities to tell patients that our experiences don't matter, we don't know what we're talking about, and we're imagining our symptoms.
"One of the major goals of the revised nosology of EDS was to identify a single term, within the EDS nomenclature, for these patients and the term "hypermobile Ehlers-Danlos syndrome (hEDS)" was elected as the preferred one. The identified new set of clinical criteria for the diagnosis is stricter than the Brighton criteria for JHS and the Villefranche nosology for EDS-HT. The rationale supporting these new criteria reflects (i) the need to place more emphasis on the use of the term "syndrome" and in doing so also highlights the pleiotropic nature of the disorder; and (ii) the opportunity to maintain coherence within the EDS nosology according to the original description of the disease."
While Hamonet, C. et al. (2015) specifically criticized the use of the word "syndrome," with regard to medical semiology, and stated Ehlers-Danlos Syndrome should be considered a "disease," given its recognizable pattern that can be diagnosed with high clinical certainty, an argument I personally think is extremely substantial, why then has the new nosology instead decided to place "more emphasis on the use of the term 'syndrome'"? According to Castori et al. (2017), their reasons for placing more emphasis on the word "syndrome" include the following rationale:
"In the recent consensus paper on general terminology in Medical Genetics by Hennekam et al. [2013], a (genetic) syndrome is defined as " a pattern of anomalies, at least one of which is morphologic, known or thought to be causally (etiologically) related." Therefore, the term " syndrome" should be used to name multiple features that share the same underlying cause (etiology) rather than a common pathogenesis. Pleiotropy is the biological mechanism underlying genetic syndromes, that is, patterns of anomalies each caused directly by a defective gene simultaneously (and independently) affecting the development/functions of different tissues/organs/structures. For all these reasons, the presence of JH in combination with secondary musculoskeletal anomalies does not suffice for the delineation of a genetic syndrome. The appellation "syndrome with JH" should be restricted to genetic conditions featuring JH together with the primary involvement of at least a second tissue/structure (e.g., skin involvement in classical EDS and hEDS). Intrafamilial phenotypic variability is a feature of most genetic syndromes. Hence, within the same pedigree, the involvement of the various systems may be not straightforward in all affected individuals. However, an objective JH should be a highly penetrant trait within and between families, as also emphasized in the new criteria for hEDS."
While you may think an argument over the use of the word "syndrome" or "disease" is just semantics and unimportant, or perhaps simply a mere linguistics issue, in my opinion, the word "syndrome" has been a large contributor in the creation of the confused medical culture in which we patients are being forced to live. While a "syndrome" may very well be defined as described by the above definition within the genetics field, for the majority of the medical community, a "syndrome" is "a list of symptoms that are not necessarily related to specific diseases" [Hamonet, C. et al. (2012), citing Littré, 1875], and clearly EDS patients present within every medical field, not just genetics; some geneticists even are now refusing to see hEDS patients, as they state there's nothing they can offer us. Additionally, while I realize many patients dislike the idea of the word "disease," thinking it sounds like something we've contracted throughout life, rather than a genetic disorder we're born with, the use of the word "disease" is not about how we as patients, or even the general public, understand the word "disease," it is about how the medical community communicates, amongst themselves, with patients, in diagnostics, and to the public. "The medical culture perceives a disease as an entity that has an etiological basis, which presents a characteristic clinical picture, and which requires appropriate treatment. Ehlers-Danlos exactly fulfills these conditions, and therefore should be considered as a disease: it is familial in nature it is transmissible, it has a clearly-defined clinical picture, and enables diagnoses to be made with a very high degree of certainty, appropriate treatments do exist, and there are also precise precautions and contraindications. The nosologic problems that arise when an actual disease is called a syndrome can well be exemplified by Ehlers-Danlos Syndrome" (Hamonet, C. et al. 2015). Ehlers-Danlos patients almost always present with 1. joint pain 2. fatigue 3. joint hypermobility 4. skin fragility 5. tendency to hemorrhages 6. proprioceptive disturbances 7. pelvic and/or bladder dysfunctions 8. GI issues and GERD 9. dyspnea 10. Dysautonomia 11. oral/dental, ENT, and visual disturbances and 12. cognitive difficulties, which together, these factors create a distinctive "disease," rather than a syndrome that is difficult to recognize. Yes, the degree of severity of the symptoms in each of these categories is a spectrum, each patient may experience some symptoms with more severity than others and other symptoms with lesser degree of severity than some symptoms, even within the same bodily system, while having a multitude of comorbidities, these specific featured categories are almost always all present [with some exception made for joint hypermobility itself, as even Castori, M. et al. (2017) express that some hEDS are not even hypermobile]; therefore, Hamonet, C. et al. (2012) concluded that Ehlers-Danlos is a distinctive disease that can be diagnosed clearly, and doctors should not be afraid to diagnose it with clinical certainty. A diagnosis for Ehlers-Danlos patients is imperative in order to receive the acknowledgement, treatment, support, and research we so desperately need, and as long as there is confusion over the terminology, and as to whether Ehlers-Danlos is a "disease" or a "syndrome," this problem will only further continue to complicate the route to a patient's diagnosis. Given this very real problem, why then, have the authors decided to place "more emphasis" on the use of the word "syndrome"? Not to mention, all the other diagnostic categories, in case you didn't notice, are considered "disorders," G-HSD (generalized hypermobility spectrum disorder), P-HSD (peripheral hypermobility spectrum disorder), L-HSD (localized hypermobility spectrum disorder), H-HSD (historical hypermobility spectrum disorder), while hEDS is the only diagnosis labeled as a "syndrome;" if this detail doesn't further complicate the clinical confusion, I don't know what does.
So, what has actually changed?
In my opinion, not that much [with the exception of the addition of the 5 point questionnaire if the Beighton scale is one point below the required minimum (4/9). See below for slides from the March 2017 patient webinar explaining the new diagnostics for hEDS]. If anything, as far as diagnosing hEDS, we're actually going backwards. Not all hypermobile EDS patients are hypermobile, and hypermobility decreases with age, as the authors even acknowledge, which was the reason (in the past 20 years, despite most doctors not knowing this information) for utilizing the Brighton criteria, which included the Beighton scale, rather than just the Beighton scale alone, and yet now, the Brighton criteria, along with the Villefranche nosology (which I have also never seen any doctor utilize, not even a geneticist when I specifically presented it to him), has been eliminated and having a 5/9 or higher on the Beighton scale is now a mandatory factor to receive a diagnosis, which isn't really a change from what most geneticists in the US were doing already. Further, this criteria notes a specific reliance on "positive family history (first-degree relatives) and/or specific systemic manifestations," meaning cardiovascular involvement, primary dysmorphisms, skin, mucosae and fascia involvement, and nervous system involvement. Again, I have concerns about this "and/or" requirement, because in my experience, many doctors lean towards imposing the "and" more so than the "or," meaning they attempt to rule out patients as much as possible, rather than rule them in. The emphasis on positive family history concerns me because as an adoptee with no access to my family history, I already wouldn't have that option if the doctor is looking to satisfy the "or," and if a geneticist decided to arbitrarily require both family history and systemic manifestations, well quite frankly I'd be out of luck. Additionally, even if I only had to satisfy the systemic part, in the past, I wouldn't have met the diagnostic criteria, not because I didn't have systemic manifestations, but because my systemic manifestations hadn't yet been diagnosed. It took my EDS diagnosis to even have doctors investigate (and diagnose) my systemic symptoms. Before my EDS diagnosis, when I knew I had EDS but I hadn't yet encountered doctors that were actually familiar with it and/or were willing to learn about it from a patient, no doctor would investigate my symptoms, because they "weren't possible," I was "imagining the symptoms," I looked "fine," and/or in their opinion, I didn't need any of those procedures; yet, those procedures were ultimately necessary to diagnose my comorbidities (such as a Gastric Emptying Study to diagnose Gastroparesis, which, it was no surprise to me, I do have).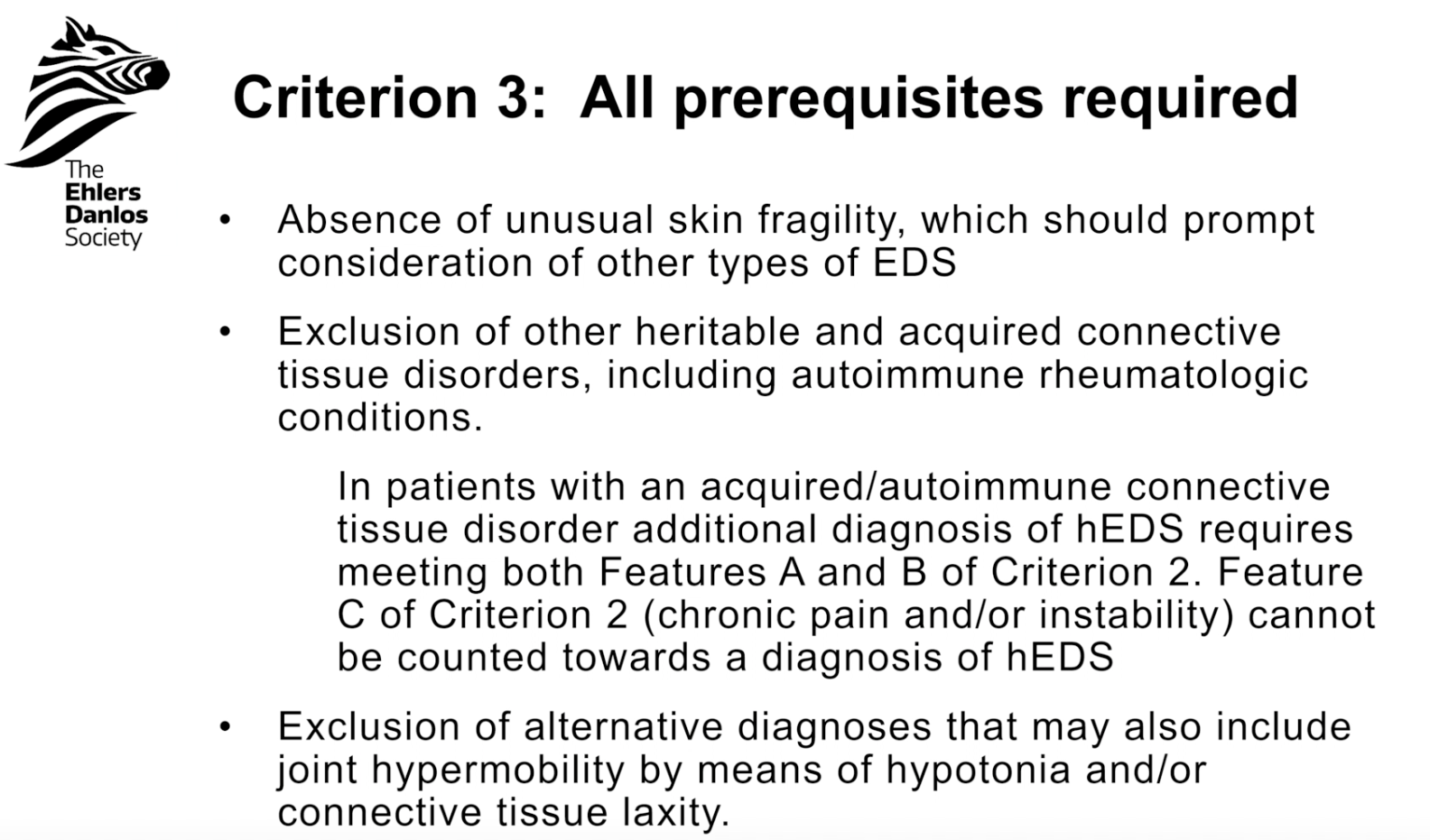 "Many researchers and practitioners with experience on JH and related conditions perceive that the boundaries separating the continuous spectrum of JH-related musculoskeletal manifestations and the true pleiotropic phenotype (i.e., hEDS) are not always straightforward and sometimes arbitrary. While the identification of stricter criteria for hEDS, which more genuinely reflect the original description of the disease, gives more order to the nosology, it leaves out many " non-syndromic" patients who suffer with the various secondary manifestations of JH. These patients do indeed have real medical needs even if they do not meet criteria for hEDS or another syndrome, and there is need for a logical framework of diagnostic terms to adequately describe their manifestations."
While I commend the authors for their stance and valiant attempt to address the wide-ranging manifestations of symptomatic joint hypermobility, so that all patients will be able to access proper treatment and care, I can't help but wonder if these nosological changes aren't actually beneficial primarily to those patients without hEDS (or simply the non-hypermobile hEDS patients that will still not meet the diagnostic criteria due to the continued use of the Beighton scale), while further serving to provide doctors more reasons to continually not diagnose, or misdiagnose with another disorder in the "Hypermobility Spectrum," those patients with, to borrow a term from the authors, "full-blown hEDS." The authors note that the distinctions between these diagnoses are sometimes "arbitrary," but it seems to me that the authors are also failing to acknowledge that sometimes the diagnoses (or the criteria to determine these diagnoses) are often arbitrarily applied. To add to this problem, often the testing used to arrive at diagnoses, including and especially for POTS, is done arbitrarily, inadequately, and sometimes completely incorrectly; patients may further also not have access to the appropriate diagnostic tools, including properly educated and informed doctors. Yet, now, such access is becoming, in many ways, a pre-requisite in order to obtain the next diagnosis, hEDS. Problematically, for some patients, it might also first take a hEDS diagnosis before doctors ever so much as consider evaluating the patients for POTS. Are patients to become stuck in a diagnostic Catch-22, a conundrum in which each diagnosis first requires a diagnosis of another? Unfortunately, I'm afraid such a situation may very well be on the horizon for all of us stuck within this hypermobility spectrum. I suppose if such a situation is the case, we can all just cross our fingers that these new diagnostics take as long to spread throughout the medical community as the updates from 20 years ago did, meaning that 20 years later, most doctors still haven't received them, and we're all still stuck arguing with doctors...
For an article truly capturing our current predicament, check out Hamonet, C. 2015. Ehlers-Danlos Syndrome (EDS), a Hereditary, Frequent and Disabling Disease, Victim of Iatrogenia due to Widespread Ignorance. International Journal of Emergency Mental Health and Human Resilience, Vol. 17, No. 3, p. 661-663, ISSN 1522-4821.
FAQ's been released, and shocker, I still have concerns.
*02/20/17 update regarding The Ehlers-Danlos Society's 2017 EDS International Classification FAQ:
**Update post-mid-March webinar
1. The new criteria v. those already diagnosed
"Q - If the criteria has changed, will I lose my diagnosis? A - NO. If you have received a diagnosis of hypermobile EDS previously, we do not recommend at this time that you would lose your diagnosis; however, for the purpose of research and the future registry, if you are re-evaluated you should have an updated diagnosis to reflect the changes."
Who is making the determination as to whether a patient is to be "re-evaluated?" I know many patients have encountered doctors who are constantly questioning our diagnosis and making us reprove it, so are we going to be re-evaluated against our wishes?
**Though Dr. Francomano stated in the webinar that she wouldn't take away an already existing diagnosis (though I've heard from a patient who saw her that it has happened), from what I've heard thus far from patients, I do think it's wise to be careful about which doctors you see. I have heard specifically complaints regarding the new EDS clinic in Ontario with patients complaining that it seems the sole purpose of this clinic is to take away existing diagnoses, though I've also recently had a friend have a good experience, so maybe it just depends on the day.
2. The "spectrum"
"Q - Is hEDS worse than HSD? A - NO. One is not worse than the other. Both sit on a vast spectrum and can cause the same symptoms. What is important is that the problems that arise, whatever the diagnosis, are managed appropriately and that each person is treated as an individual. Both can be equal in severity, but more importantly, both need similar management, validation and care."
While I agree, everyone needs management, validation, and care, I don't think this "spectrum" is giving everyone that validation. Sure, The Ehlers-Danlos Society and EDS "experts" say that "one is not worse than the other," but I guarantee this lack of supposed difference is not how this spectrum is going to be viewed by the majority of the medical community.
3. Insurance codes
"Q - What about insurance companies and ICD-10 codes? A - The Society are working with our medical and scientific board to ensure that there is a plan in place so that both criteria for EDS and HSD are acknowledged and the different types of EDS defined. There are codes for the symptoms presented with both criteria, so there are ways for clinicians to work with this as they did previously. This is something that has historically been a problem and these new criteria will not actually change the issues surrounding problems with insurance companies."
My suspicions haven't actually been put to rest here, so my guess is we're still going to have problems with doctors trying to diagnose HMS and BJHS. BJHS isn't even a valid ICD-10 code, and hasn't been for quite some time, and yet doctors still try to diagnose it (a geneticist offered it up to me in 2016). Further, HMS's ICD-10 code specifically states that it "excludes Ehlers-Danlos Syndrome," despite elsewhere in this document where it's stated that HMS is the same as hEDS. I suppose that incorrect information is going to remain in the ICD-10 as well? This issue might be one of the least of our problems though, as most doctors don't even assign the diagnosis codes, medical coders do that. Are we also going to be educating medical coders on the updates? How will such education be done? I highly doubt anyone has even so much as thought to address this question.
4. EDS research
"One of the driving forces behind these decisions is the research opportunities that having clearer criteria will bring."
I can't help but chuckle about the ridiculousness of this statement. Will these changes really bring research opportunities? Not to mention, is this criteria "clearer"? It seems to me we're going to be ruling patients out of valid diagnoses (primarily due to the continued use of the Beighton scale), and if patient diagnoses aren't being taken away (unless they're "re-evaluated," whatever that means), then the patients involved in research will have been judged on different standards, which is a factor that generally would make most research invalidated.
**Update: If you want to be included in the new EDS patient registry or participate in research, you will have to be re-evaluated based on the new criteria.
5. More disturbing backtracking
"Q - Is this still a rare disease? A - We cannot be sure but for now we must work with what we know and that is that EDS in general falls in to the rare disease family. However, we believe that HSD is common."
So … are we back to saying EDS is rare again? I do not see how such a thing is remotely helpful.
I have more questions than answers. [Sigh.]
Castori M, Tinkle B, Levy H, Grahame R, Malfait F, Hakim A. 2017. A framework for the classification of joint hypermobility and related conditions. Am J Med Genet Part C Semin Med Genet 9999C:1–10.
Hakim A, O'Callaghan C, De Wandele I, Stiles L, Pocinki A, Rowe P. 2017. Cardiovascular autonomic dysfunction in Ehlers–Danlos syndrome—Hypermobile type. Am J Med Genet Part C Semin Med Genet 9999C:1–7.
Tinkle B, Castori M, Berglund B, Cohen H, Grahame R, Kazkaz H, Levy H. 2017. Hypermobile Ehlers–Danlos syndrome (a.k.a. Ehlers–Danlos syndrome Type III and Ehlers–Danlos syndrome hypermobility type): Clinical description and natural history. Am J Med Genet Part C Semin Med Genet 9999C:1–22.
I've maintained this site as advertisement-free, as I believe ads distract from my intent in providing resources and communicating factual, scientific, and accurate information. I do this research and writing in my own free time and hope that my efforts help others in finding answers to better their own quality of life. If my work has helped you, please consider donating or buying me a coffee.